WELCOME
****
Last update: June 30, 2011
--------
Courtesy of
The Quarashi Vibe
:
Quarashi…they're back!
The news is in, signed sealed, and delivered by secure sources, Quarashi is going to be playing a one time only gig at the Icelandic festival "Besta Útihátíðin" this summer (2011).
The date for this magical event is July the 9th and all members of the band both original and otherwise have agreed to come back. This is quite an amazing feat considering that many of them live in different countries now.
This will also be the first time Hössi and Tiny perform together.
So boys and girls get ready to get down and par-tey like possessed beasts…QUARASHI IS BACK!
—
The Quarashi Vibe will do their best to help out those who want to come to Iceland for this amazing one off event. Contact Savon by
clicking here
for more info.
The Location of "Besta Útihátíðin" is "Gaddstaðaflatir, Hella".
Tickets are being sold at www.midi.is
---------
Also Courtesy of
The Quarashi Vibe
: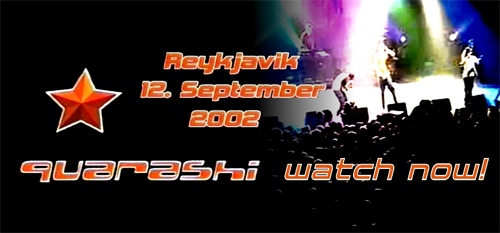 On September 12, 2002, Quarashi played one of their biggest gigs in Iceland. The concert was held at
Laugardalshöll, an indoor sporting arena located in Reykjavík, Iceland
. The entire concert was filmed, and you can watch the whole concert in its entirety over at The Quarashi Vibe, by clicking the picture above. Over at The Vibe, they even included the pre-show interview which was aired on Icelandic news TV, with English sub-titles!
---------
*New music video from Tiny's band The Musik Zoo available to watch below!*
--------
March Rare Download of the Month Available!
"2001"
A rare track by Solvi and Quarashi.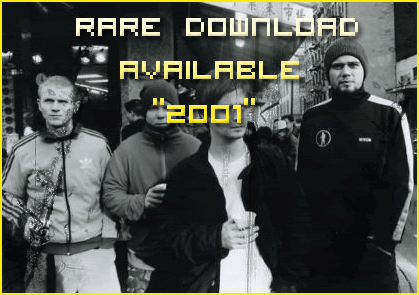 ---------
Please visit the new official QuarashiMusic forums! Discuss all things Quarashi here!
http://quarashimusic.proboards.com/index.cgi
Remember to bookmark / favorite the forums and visit often to check for the latest discussion!
---------
New music video from The Musik Zoo!
"Cold Killer"
The Musik Zoo is an Icelandic rock/rap band that Tiny recently joined to be the lead rapper and possibly singer. Tiny has been kind enough to tell me he will send me more songs in the future, and with his permission I will pass along to everyone else.
------------------

New interview with Tiny up! Read the full interview here, by clicking on the 'Extras' page and then clicking the link, or go directly to it by clicking here - My Interview With Tiny. The interview discusses such topics as Tiny's first influences, how he joined the band, the Quarashi break up, and his current musical project (The Musik Zoo).

------------------
Watch our newest Youtube upload - The Making of the "Mr. Jinx" music video!
http://www.youtube.com/watch?v=dwvmpARVu7k&feature=channel_video_title
-------------------

Add the new, officical QuarashiMusic.blogspot.com Myspace and Facebook Group!!!

Visit:

http://www.myspace.com/quarashimusicblogspot
http://www.facebook.com/group.php?gid=131148873394&ref=nf

----------------------------------------------